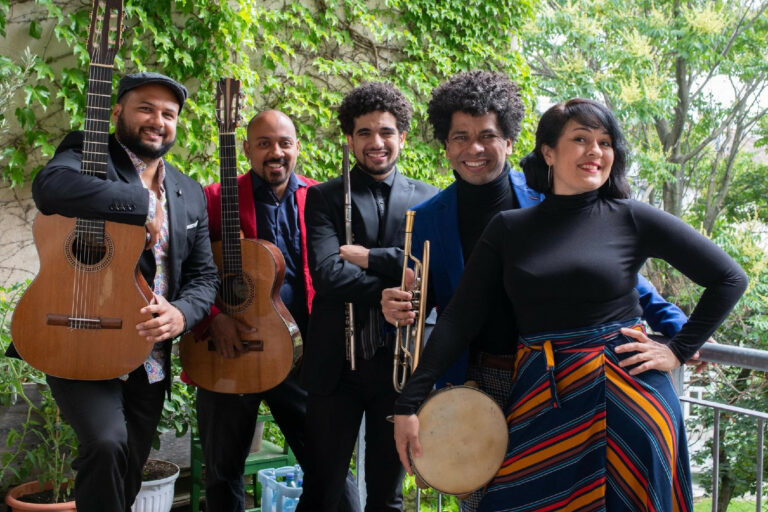 Choro Festival
Date
Sunday 12 December, 2021
Start
13:00
Doors open
12:30
Due to the new measures, we are obliged to check for the CoronaCheck app QR-code in combination with a valid ID.
More info
Just like 2020, 2021 is a "special" year and therefore also a special edition of our annual Brazilian Choro Festival. This 9th edition of this unique festival will again take place in the culturally rich Delfshaven district in Rotterdam and taking all COVID measures into account, we are still having a party!
A full day of concerts and presentations by our teachers, students and special guests of the Wiener Choro Ensemble (Austria/Brazil)
Wiener Choro Ensemble:
Antônio de Padua (musical direction, trumpet, 7 strings guitar, cavaquinho, percussion) – Roberta Karin (percussion) – João Vitor (flute) – Marco Antonio da Costa (7 strings guitar & cavaquinho) – Daniel Mesquita (6 strings Guitar)
Be one of the lucky visitors who can feel the energy live in Grounds (limited seats) or enjoy yourself at home from the comfort of your couch, bed or sofa: We also stream the whole day online! The streaming link will soon be available here.
Teachers EPM Holanda: Elizabeth Fadel (piano), Udo Demandt (percussion), Alvaro Rovira Ruiz (guitar), Rafael Pereira Lima (sax), Angelo Ursini (flute and clarinet), Kees Gelderblom (guitar), Hassan Ait Moumad (cavaquinho/bass ), Marijn van der Linden (cavaquinho), Grace Chi (piano), Mirre Valkenburg (vocals), Magda Mendes (vocals) Juliano Abramovay (guitar) and Yasmim Flores (Brazilian art for kids)
Choro Festival is organized by the Brazilian music school EPM Holanda in collaboration with GROUNDS and it was made possible in part by Stichting Droom en Daad, Municipality of Rotterdam, Elise Mathilde fonds, Volkstheater, our donors/amigos and Grounds and our partners Bom Sabor do Brasil, Berimbau de Ouro Capoeira School, Codarts, TSP Wave and Creative Flavors.