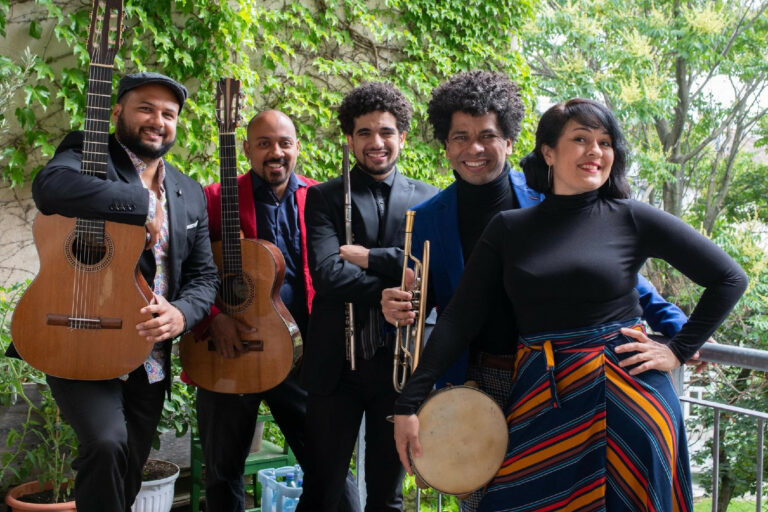 Choro Festival
Datum
zondag 12 december, 2021
Aanvang
13:00
Deur open
12:30
Wegens de nieuwe maatregelen zijn wij verplicht om te controleren op de CoronaCheck-app QR-code in combinatie met een geldige ID.
Meer Info
2021 is net als 2020 een "bijzonder" jaar en daarom ook weer een speciale editie van ons jaarlijkse Braziliaanse Chorofestival. Deze 9e editie van dit unieke festival vindt weer plaats in de cultuurrijke wijk Delfshaven in Rotterdam en met in achtneming van alle maatregelen bouwen we toch een feestje!
Een volle dag concerten en presentaties van onze docenten, studenten en speciale gasten van het Wiener Choro Ensemble (Oostenrijk/Brazilië)
Wiener Choro Ensemble:
Antônio de Padua (musical direction, trumpet, 7 strings guitar, cavaquinho, percussion) – Roberta Karin (percussion) – João Vitor (flute) – Marco Antonio da Costa (7 strings guitar & cavaquinho) – Daniel Mesquita (6 strings Guitar)
Wees een van de gelukkige bezoekers die de energie live kan voelen in Grounds (gelimiteerd aantal plaatsen) of geniet thuis vanaf je luie stoel, bed of bank: We streamen de hele dag ook online! De stream link zal binnenkort hier te vinden zijn.
Docenten EPM Holanda: Elizabeth Fadel (piano), Udo Demandt (percussie), Alvaro Rovira Ruiz (gitaar), Rafael Pereira Lima (sax), Angelo Ursini (fluit en klarinet), Kees Gelderblom (gitaar), Hassan Ait Moumad (cavaquinho/bas), Marijn van der Linden (cavaquinho), Grace Chi (piano), Mirre Valkenburg (vocals), Magda Mendes (vocals) Juliano Abramovay (gitaar) en Yasmim Flores (Brazilian art for kids)
Choro Festival wordt georganiseerd door de Braziliaanse muziekschool EPM Holanda i.s.m. GROUNDS en het is mede mogelijk gemaakt door Stichting Droom en Daad, Gemeente Rotterdam, Elise Mathilde fonds, Volkstheater, onze donateurs/amigos en Grounds en onze partners Bom Sabor do Brasil, Berimbau de Ouro Capoeira School, Codarts, TSP Wave en Creative Flavours.