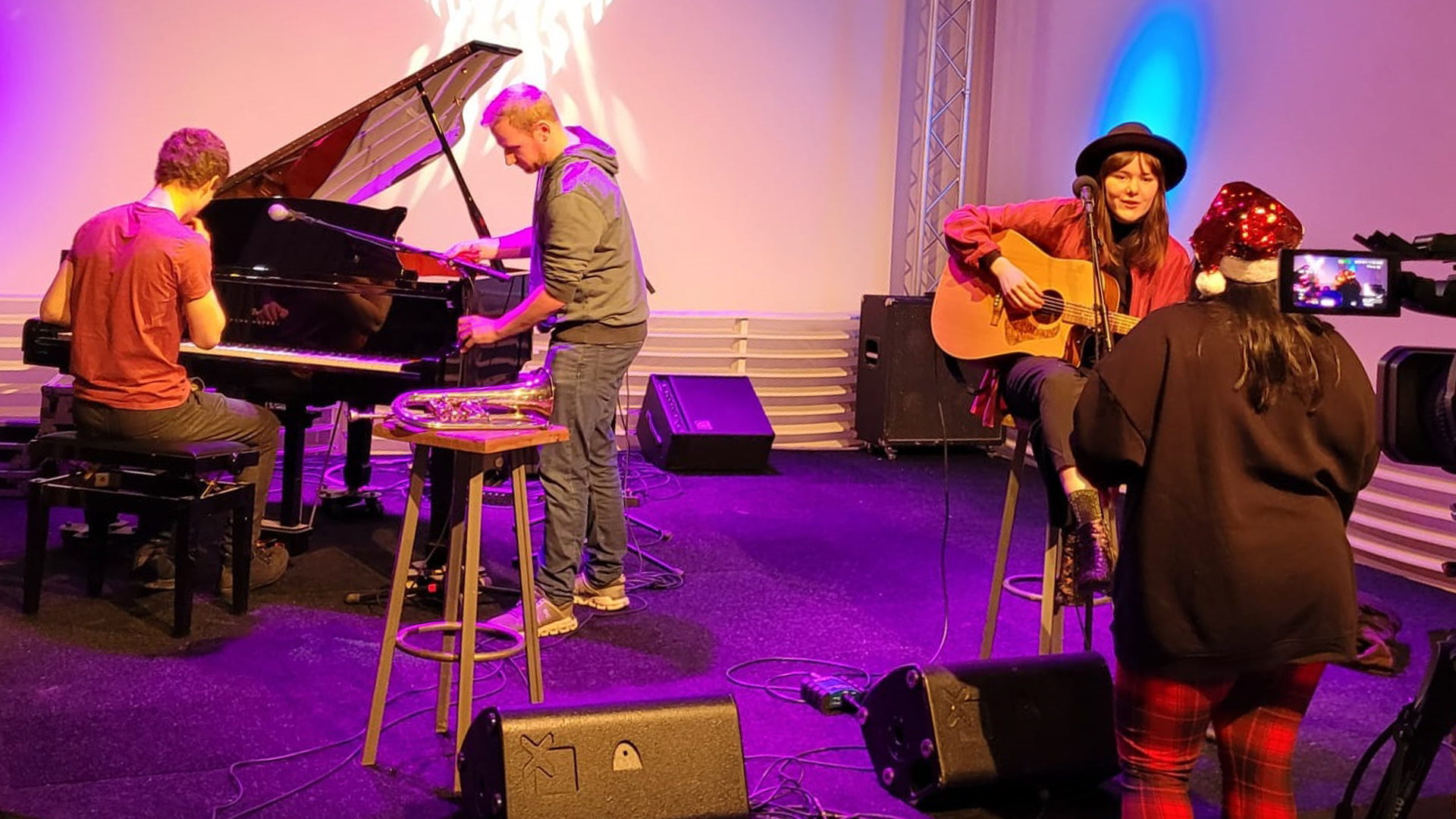 OPEN Sessies: New Grounds (avond)
Date
Tuesday 19 October, 2021
Start
20:15
Doors open
19:30
OPEN Rotterdam made the tv-program 'OPEN Sessies: New Grounds, in collaboration with New Grounds and the Popunie, during the coronacrisis. Thanks to this tv-program, artists could still be on stage despite all the corona measures, but without an audience.
The current relaxations ensure that a audience can be present this time. There are hundred free tickets available for the whole show. The program is recorded in two time slots: from 15:00 to 18:30 and 19:30 to 22:00. So there are fifty people in the audience each time. Do you want to be part of one of the semi live television recordings of OPEN Rotterdam in New Grounds? Download your e-ticket now.
Line-up
Alexandra Alden
Alexandra Alden comes from the island of Malta and makes alternative indie folk. She has lived in three different countries and moves at least once a year. Not necessarily by her own choice, but for some reason she can't stay in one place for too long. This could be due to extreme bad luck, or to the fact that fate chooses to push her in and out of moments of comfort and discomfort. Between these transitions, Alden's songs come alive; the end of one chapter is the beginning of a new chapter.
Greg Smith
After a long astonishing career touring with huge artists as David Binney, Kori Withers, or the Lama Trio, now Canadian drummer/composer Greg Smith sneaks up with CLUSTER 001. This new project that has taken the jazz radio playlists around the World by storm, consists of a distinctive, theatrical jazz music with robotic electronics, dreamy effects, and a powerful percussive edginess.
Indigo Pastel 
Indigo Pastel is a brand new band that started in the summer of 2020. Neon signs on a deserted boulevard, nighttime swimming in the Western Scheldt, wine mixed with salty seawater, slurred speech and the sound of waves crashing on the beach, you name it! Most of the music was written during a burnout followed by covid quarantine. The band is very melancholic, warm, hopeful and introspective with a manic twist.⁠
YoungRubbi
In 2018 Ruben decided to develop a hip-hop act under the name YoungRubbi with a live band that is characterized by melodic synths, metal guitar riffs interspersed with sensitive ballads and steaming mosh pits. YoungRubbi's sound has influences from Kanye West, Kraftwerk and Lil Uzi Vert, among others. In short: experimental yet danceable and exciting (electro) trap mixed with the dynamics of old-skool hip-hop in which the rebellious and social spirit of punk is expressed in content.