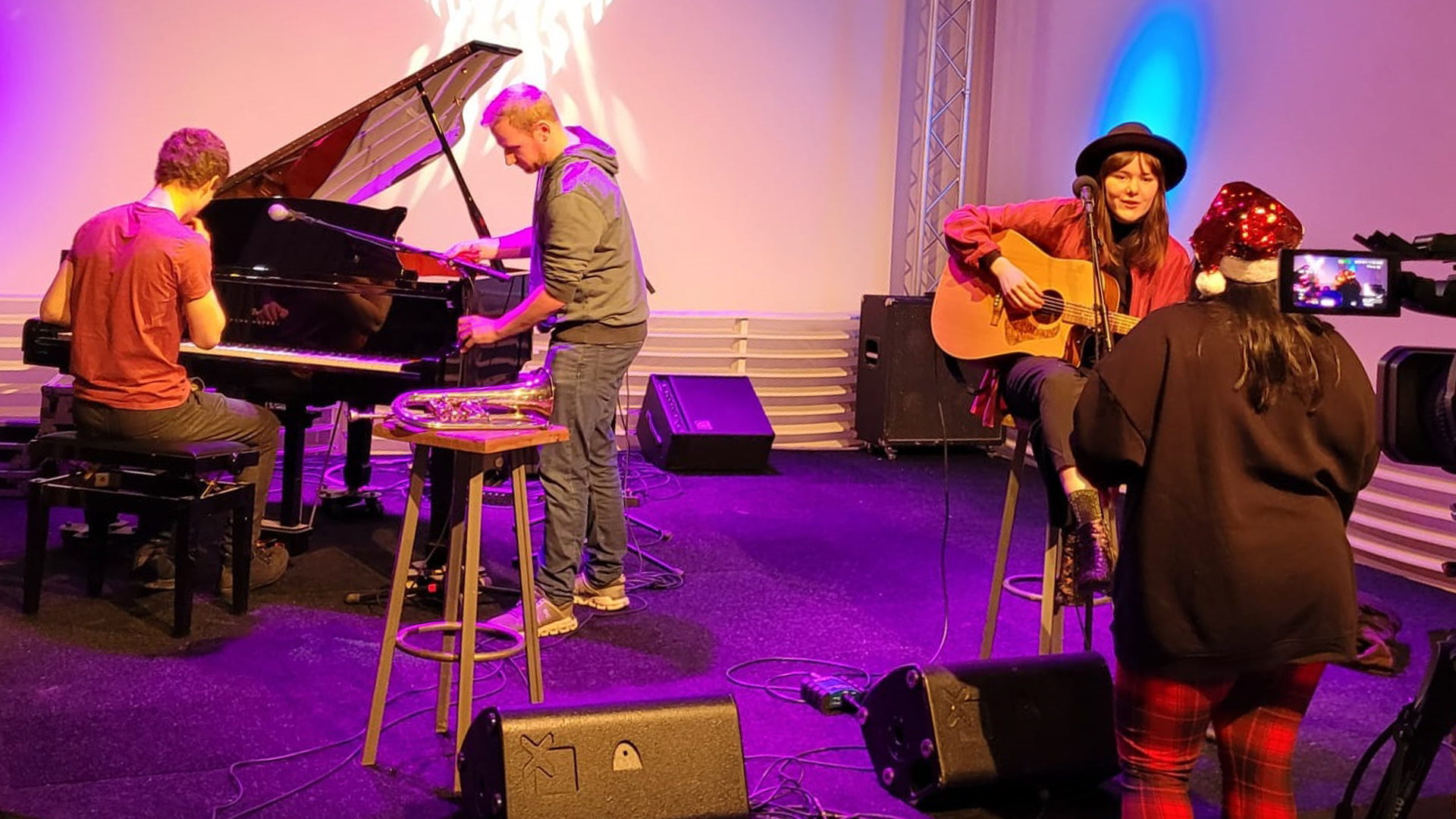 OPEN Sessies: New Grounds (avond)
Datum
dinsdag 19 oktober, 2021
Aanvang
20:15
Deur open
19:30
Wegens de nieuwe maatregelen zijn wij verplicht om te controleren op de CoronaCheck-app QR-code in combinatie met een geldige ID.
Meer Info
Tijdens de coronacrisis maakte OPEN Rotterdam, in samenwerking met New Grounds en de Popunie, het programma 'OPEN Sessies: New Grounds'. Dankzij het tv-programma konden artiesten desondanks alle coronamaatregelen toch nog op het podium staan, maar dan wel zonder publiek.
De huidige versoepelingen zorgen ervoor dat er dit keer wel publiek bij kan zijn. Er zijn in totaal honderd vrije kaarten beschikbaar gesteld. Het programma wordt opgenomen in twee tijdsvakken: van 15:00 tot 18:30 uur en 19:30 tot 22:00 uur. Dus wil jij aanwezig zijn bij één van de semi live televisie opnames van OPEN Rotterdam in New Grounds? Download dan nu je e-ticket.
Line-up
Alexandra Alden
Alexandra Alden komt van het eiland Malta en maakt alternatieve indie-folk. Ze heeft in drie verschillende landen gewoond en verhuist minstens één keer per jaar. Niet noodzakelijkerwijs door haar eigen keuze, maar om de een of andere reden kan ze niet te lang op één plek blijven. Dit kan te wijten zijn aan extreme pech, of aan het feit dat het lot ervoor kiest om haar in en uit momenten van comfort en vervolgens ongemak te duwen. Tussen deze overgangen komen Alden's liedjes tot leven; het einde van het ene hoofdstuk is het begin van een nieuw hoofdstuk.
Greg Smith
De Canadese drummer en composer Greg Smith heeft opgenomen en getourd met David Binney, Chris Speed, Reggie Washington, Sandra St. Victor, Kori Withers, and the Lama Trio. Nu is hij terug met een band genaamd CLUSTER 001. Het album, met dezelfde titel als de band, heeft hij in het afgelopen coronajaar gemaakt en is gereleased in april.
Indigo Pastel 
Indigo Pastel begon in de zomer van 2020. Denk aan neonreclames op een verlaten boulevard, nachtelijk zwemmen in de Westerschelde, wijn vermengd met zout zeewater, onduidelijke spraak en het geluid van de golven die op het strand beuken. De meeste muziek is geschreven tijdens een burn-out gevolgd door covid-quarantaine. De band is erg melancholisch, warm, hoopvol en introspectief met een manische twist. ⁠
YoungRubbi
In 2018 besloot Ruben onder de naam YoungRubbi een hiphop act te gaan ontwikkelen met een live band die gekenmerkt wordt door melodische synths, metal guitar riffs afgewisseld door gevoelige ballads en stomende mosh pits. De sound van YoungRubbi verraadt invloeden van onder anderen Kanye West, Kraftwerk en Lil Uzi Vert. Kort gezegd: experimentele maar dansbare en opzwepende (electro) trap vermengd met de dynamiek van old-skool hiphop waarin inhoudelijk de opstandige en sociaal-maatschappelijke geest van de punk tot uiting komt.