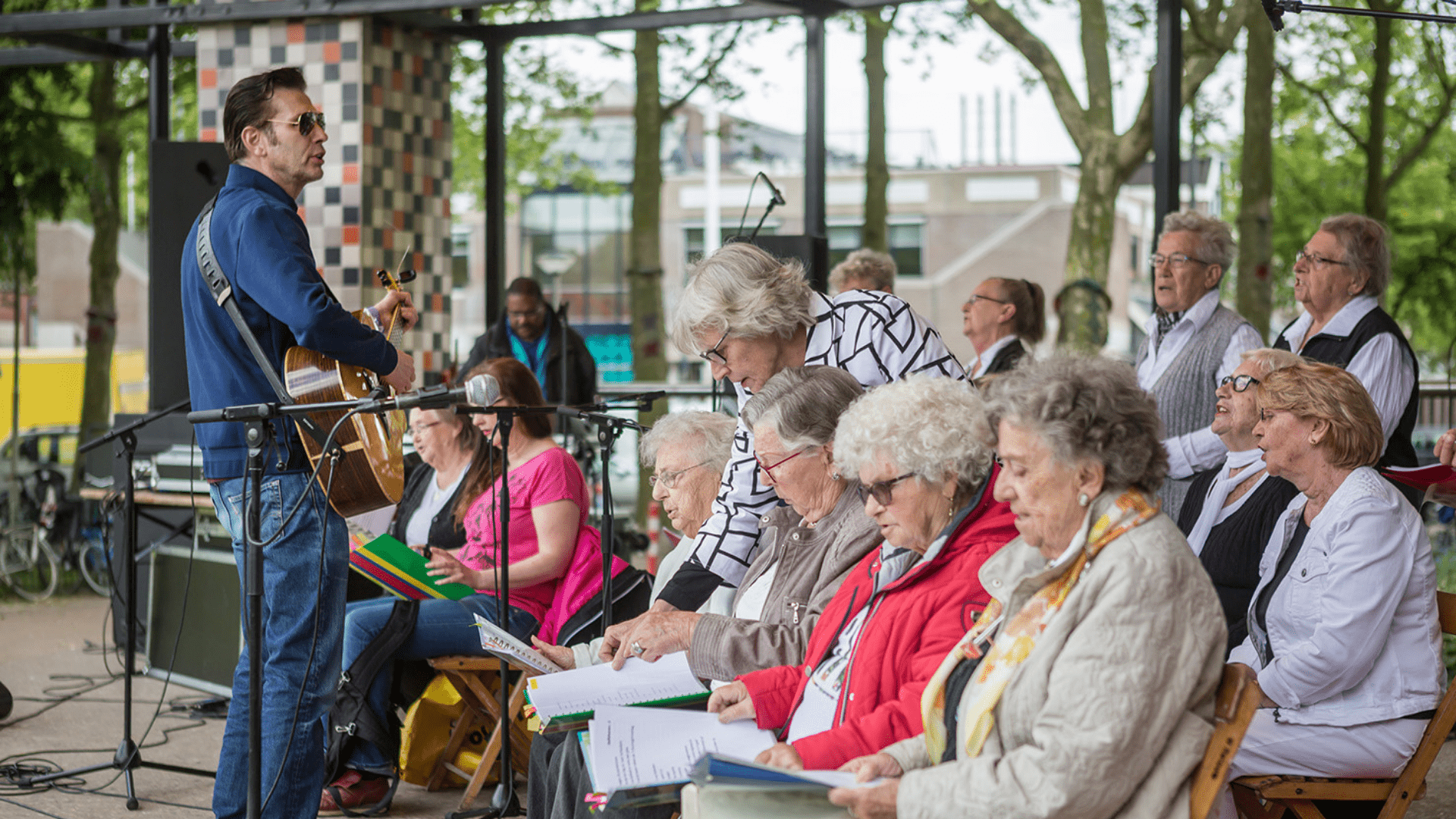 Wereld Wijde Wijk Spangen
Datum
zondag 05 juni, 2022
Aanvang
15:00
Programma
15:00-15:20 Smartlappenkoort Delfshaven
15:25-15:35 Thamia (wijktalent)
15:40-15:50 Chamo Brothers & CAN 3027 (Urban wijktalenten)
15:50-16:10 Duo Diesel (circustheater)
16:20-17:00 Jorgen Manuel & The Delidel Touch (reggae)
17:05-17:15 Kidzzfamily
Smartlappenkoor Delfshaven (o.l.v. Eddy Versloot)
Het Smartlappenkoor Delfshaven is een samenwerking tussen de koren uit de Kolk en Huis van de Wijk de Put. Met veel enthousiasme  en plezier treedt dit gezelschap als 5 jaar op in heel Rotterdam. Met leden  tussen de 60 en 90 jaar jong is elk optreden weer een belevenis. Onder leiding van Ed Versloot wordt het publiek verwend met smartlappen, Nederlandstalige evergreens en meezingers. Ed is een gepassioneerde muzikant en ex-sociaal cultureel werker. "Er is niets zo gezond als zingen! Bovendien is het erg gezellig!", aldus Ed Versloot.
Thamia
Thamia is een jongtalent uit de wijk. Ze timmert al een paar jaren aan haar carriere en met succes.

Chamo Brothers & CAN 3027
CAN (Creative Action Now) werkt met jongeren uit Delfshaven door een platform aan jongeren te bieden om met elkaar aan ieders talent te werken. Vandaag presenteert CAN samen met Randy 'RCS' Furtado urban wijktalenten.
Jorge Manuel & The Delidel Touch
The Delidel Touch is een Rotterdamse reggae band die rockgeluiden met Kaapverdische muziekelementen (zoals de Morna, Coladera, Tabanca en Funana) mengt. De groep werd meer dan 25 jaar geleden opgericht door de 3 neven en tevens boezemvrienden Manecas Delgado, Jorge Manuel Lizardo en Arlindo Delgado.
In de jaren '90 stond The Delidel Touch als huisband van de Rotterdamse poptempel Nighttown in het voorprogramma van vele Jamaicaanse grootheden, zoals Jimmy Cliff, The Wailers, Lee Perry, de kinderen van Bob Marley en vele anderen. De band treedt veel op in Nederland, Europa en Afrika. Na een stilte is de band in 2018 weer bij elkaar door zanger Jorge Manuel gebracht. The Delidel Touch is eigenlijk meer dan een band, het is een collectief van muzikanten, familie en vrienden, die allemaal achter de band staan.  (Info: Blackstar Foundation)
Kidzzfamily
Kidzzfamily is een groep van talentvolle zingende en dansende kinderen uit Spangen.