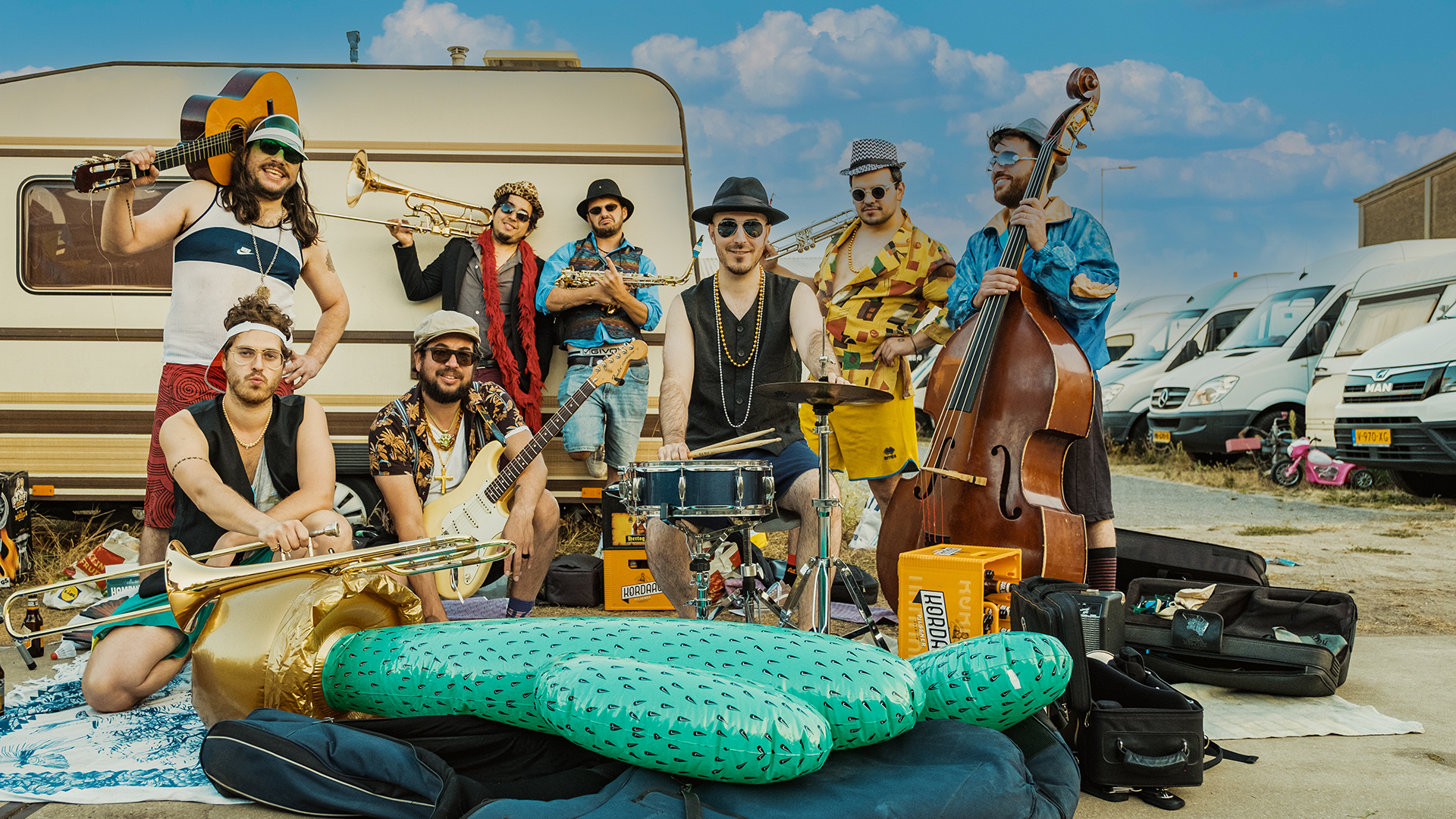 Día de Muertos met Los Paja Brava
Voorverkoop €15,00
(+ €1 administratiekosten)
Deur €17,50

Datum
vrijdag 04 november, 2022
Aanvang
21:00
Deur open
20:00
Tijdens Día de Muertos -dag van de doden- viert men dat de zielen van overledenen met Allerheiligen en Allerzielen terugkeren op aarde. Deze verering gaat gepaard met feestelijke offers. Op 4 november vieren we in Grounds Día de Muertos met Los Paja Brava. Eindeloos plezier met dansende skeletten en ruimteschepen, ontworpen door Jamie Nee, grime van Cindy, en natuurlijk de (te) gekke vibes van de live muziek van de band!
Deze viering is een tweedaagse feestdag die de levenden en de doden herenigt. Families maken "ofrendas" (offers) om hun overleden familieleden te eren en om die overleden zielen aan te moedigen het land van de doden te verlaten en het feest met de levenden te vieren. Voel je vrij om je eigen "ofrendas" mee te nemen naar het feest en doe mee aan deze geweldige viering!
Bereid je voor op een explosie van ritme, energie en extreem goede vibes. Cumbia, rock, ska en surf in een heerlijk pittige en dansbare mix. Voor je het weet surf je langs de Colombiaanse kust om vervolgens wakker te worden op Hawaï. Met een cocktail in de hand. Los Paja Brava maakt perfect georganiseerde anarchistische muziek vol exotische danspasjes en Spaanstalige songteksten. Thuis hebben ze een eigen genre gebrouwen: 'The Mighty Mighty Freakandela Distropica'.
Check de aftermovie van het spektakel in 2019!
Voorprogramma
Kiloknallers is een gewichtig old school Ska gezelschap, met: acht man van vlees en bloed, 100 % muziek en plezier. Al sinds 2018 zorgen zij voor Skandalig vette ska en altijd goedgekeurd vuurwerk op straat, zaal, kroeg, theater, park, strand of ander feest.
De Kiloknallers knallen bij jou de kilo's eraf want stil zitten is er niet bij. Een feestje maken 'samen met je publiek', is hun devies. Dat dit geheel wederzijds is bleek uit de publieksprijs die ze wonnen tijdens hun première op het GoudenPet Festival 2018 in Leiden. Een maandje later op het straatfestival in Alphen: eerste prijs! En een jaar later werden ze Nederlands Kampioen Straatmuzikanten 2019. Ook mochten ze de allereerste Chuck Deely award 2019 ontvangen. Altijd prijs dus met de Kiloknallers.
Bankra Bike DJ team & DJ Pyraña
Manne en Vincent van Bankra Bike soundsystem draaien vlammende plaatjes uit het zuiderlijk halfrond waar zelfs de doden niet van stil blijven liggen. Versterkt door de Braziliaanse DJ Pyraña wordt het happen naar lucht of afdalen naar de onderwereld.