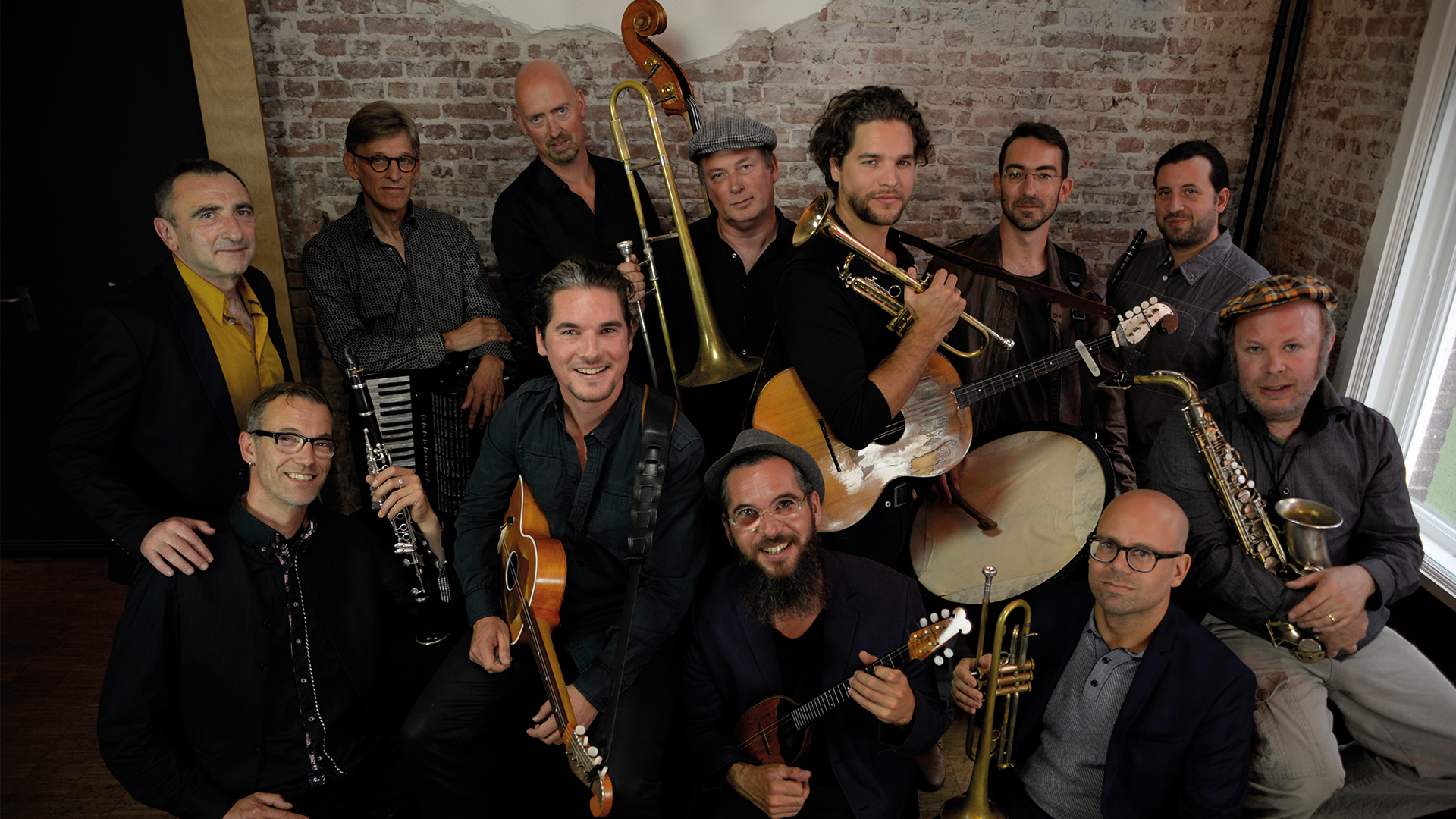 Amsterdam Klezmer Band & Söndörgő
Pre-sale €15,00
(+ €1 service fee)
At the door €17,50

Date
Saturday 12 November, 2022
Start
21:00
Doors open
20:00
Over the past 25 years, the Amsterdam Klezmer Band has created an international sensation with an irresistible mix of traditional klezmer, balkan, gipsy, pop and dance music. No wonder it clicks with Söndörgő, the Hungarian band that breathes new life into old music from the Balkans. Söndörgő created a storm at European festivals with spectacular ensemble playing. These extraordinary bands will play in Grounds on the 12th of November.
The Amsterdam-based klezmer group transformed itself over a quarter century from musically inclined street kids to virtuoso musicians, who blend klezmer with music from Ukraine to Turkey. In 2018, they formed a surprising union with Söndörgő from Hungarian Szentendre – home to the southern Slavic minority in that country.
Both groups have a lot in common – musical instinct, stunning craftsmanship and hunger for new challenges – but the combination picks up powerfully, mainly because they complement each other beautifully. Whereas with the Amsterdam Klezmer Band the horns dominate, with Söndörgő the sound is dominated by dizzying strumming on the different variants of the mandolin-like tambura. In the wind category, their arsenal additionally includes a trumpet and a virtuoso Romanian shepherd's flute: the kaval.
In all aspects they nicely complement the warm-blooded brass of the group from Amsterdam. For both groups it applies that they will never deny the primal source of their inspiration, but neither allow themselves to be disturbed by boundaries between traditions, genres and styles. With a solid Balkan foundation as their base, they draw on all that tastes and, moreover, do so in an atmosphere of immense pleasure in playing and mutual appreciation.
The two bands released an album together in 2018 entitled Szikra (translation: Hungarian for Spark). Followed by this release, they had a tour which was a huge success with highlights at Sziget, Dranouter, Bardentreffen and the Balkan Trafik festival.