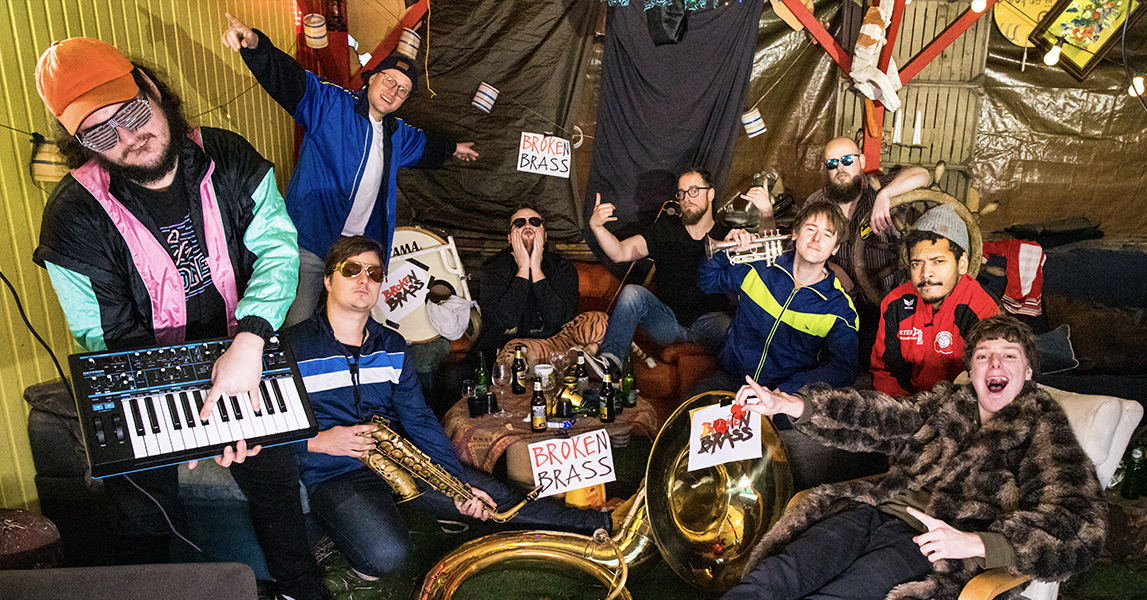 Nacht van de Kaap x Grounds
Pre-sale €35
(+ €1 service fee)

Date
Saturday 03 September, 2022
Start
18:00
This year, Grounds is back at festival Nacht van de Kaap with the Grounds Biggest Dance Palace! Our stage contains a lot of energy and diverse genres: from voodoo rock to brass funk. So come to Katendrecht on Saturday September 3rd and party with us!
Line up
DeDe Priest & Johnny Clark's Outlaws
DeDe Priest grew up in Dallas, Texas, raised by her hard-working, young mother. As a little girl, she would write songs and sing along to whatever she could find. In addition to singing, she studied classical violin as a child (often holding it and strumming it like a guitar). After years of performing primarily as a vocalist, she would later make the transition to singing and performing with her violin and guitar. This new direction would shape her overall talent and bring the deepest satisfaction.
The pleasure of singing and performing with her violin led Dede Priest to add her guitar to the mix. In her new collaboration with Johnny Clark's Outlaws, she is doing what she loves most: painting with all three instruments. DeDe Priest & Johnny Clark's Outlaws have developed a unique and recognizable sound that blends Blues with elements of Rock, Soul, Gospel, Folk, and Country. Their first 2 releases, "Flowers under the Bridge" (December 2017) and "Crocuses from ashes" (May 2019), received exceptional, international praise. Their 3rd album, "When birds were snakes", was released May 1, 2021. Their shows bring original songs and deliver a loaded atmosphere where a modern-day, cross-over style emerges.
James Taylor Quartet
Great Britain is an island full of headstrong leftists who have questionable eating habits. But Great Britain is also an island that has always produced the best bands in the world. We can't argue about that, so we won't.
One of the bands that carries the famous British hallmark is James Taylor Quartet, a musical formation that has been setting the tone for more than 30 years when it comes to the coolest sounds in funky acid jazz. During this period the ensemble has released numerous successful albums and made music history with thrilling performances at home and abroad.
Moonlight Benjamin
Haitian-born Moonlight Benjamin lives in France and is not only a gifted singer and sing- and songwriter, but also a voodoo priestess. 'No-nonsense Haitian blues-rock, thrilling, thoughtful and, at times, downright spooky,' said the Guardian's out-of-touch music editor, who promptly awarded her work four stars. In short, a Caribbean singer cum voodoo priestess whose crushing voice overwhelms and overwhelms English music connoisseurs. We like that! We are very proud that Moonlight Benjamin will bring Katendrecht to a collective trance on September 3rd with an unequalled performance during the Night of the Cape! A tastemaker, without a doubt.
Meta en The Cornerstones
While you're enjoying a Bacardi Breezer Pineapple in some illustrious resort town, the programmers of the Night of the Cape are not sitting still. On the contrary. The party committee is braving tropical heatwaves and is working day and night to provide the comeback edition of the Night of the Cape with a gold-framed music menu. And with success. Because we just got a call that Meta and the Cornerstones are coming to Katendrecht on September 3!
What can you expect? Well, the following: front singer, songwriter and composer Meta Dia, flanked by the Cornerstones, fuses afro-pop, hip-hop, rock and soul into a cross-border music spectacle with a delicious late summer flavour. We are looking forward to it!
Broken Brass Ensemble
Brass bands always do well at Night of the Cape? What is the reason for this? No idea. Perhaps a trombone sounds better when surrounded by water from the Maas. In any case, who knows? Anyway, the Night of the Cape would not be the Night of the Cape without a brass ensemble and so the party committee searched for a Cape worthy brass band. And with success, because Broken Brass is coming to Katendrecht this year.
And that's good news. Broken Brass is an explosive, energetic and dyed-in-the-wool music ensemble that has performed more than 500 live shows at festivals at home and abroad, including North Sea Jazz, Eurosonic, VH1 Festival (India), Secret Garden Party (UK), Fusion Festival (DU) and Kendal Calling (UK). On September 3 they come to Katendrecht for a performance in which this ensemble interweaves rock 'n roll, funk and a touch of hip hop in an unparalleled and highly danceable musical spectacle. In short, this will be a party with a capital P!
Timeschedule
18:00 – 19:00 DeDe Priest & Johnny Clarks Outlaw
19.30 – 20.30 James Taylor Quartet (jazz, funk)
21.00 – 22.00 Moonlight Benjamin (voodoorock)
22.30 – 23.30 Meta and the Cornerstones (rootsreggae)
00.00 – 01.00 Broken Brass Ensemble (brassfunk)