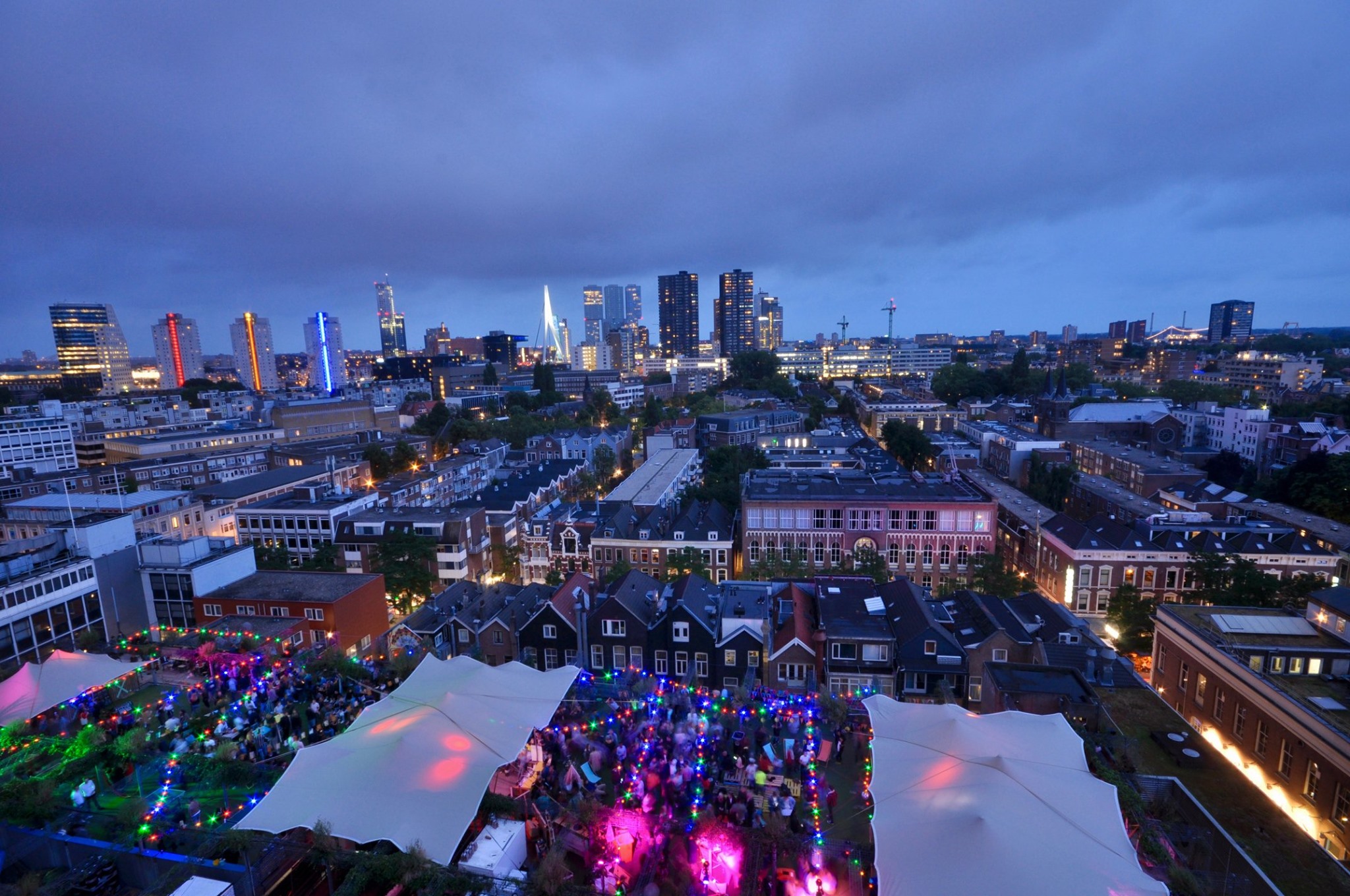 Dâk Rotterdam x Grounds
Date
Saturday 23 July, 2022
Start
14:00
| This event takes place at the parking deck of APCOA Parking Westblaak, around the corner from Witte de Withstraat. Buy your tickets at the door (€7,00 incl. drinking cup).
Grounds goes up the Dâk (roof)! On Saturday, July 23, Grounds will present all visitors a very diverse program! Expect music with sounds from other parts of the world, but also experimental beats from local artists. Something for everyone!
Line up
Kim Petite
Kim Petite is a 25-year-old singer from Rotterdam, with roots in Cape Verde. Besides her job in Urban Development, she is very involved with music in her free time. She likes to perform on different stages and to do covers of power women in the R&B and Soul world. Recently she has also been busy in the studio recording her own songs. What you can expect is a soulful R&B sound, where Kim likes to take you into the emotion that music brings to her.
Michline
Boundaries are for pushing against, in the moment and by touch. The music of this singer/songwriter is genre-fluid. In an organic way she experiments with different styles of music and ways of songwriting. For example, she often works from lyrics and story to music, but is just as happy to draw inspiration from live music or a heavy beat to arrive at lyrics. The music influences from her youth; jazz, rock, South American music, country, pop, R&B and metal, she can't help but bring it with her. From spicy electric guitars to sweet-voiced jazz and bossa nova. Together with multi-intrumentalist and partner-in-crime Rajiv Daryanani, a.k.a. Sniebl, Michline takes you on a musical journey.
Alexandra Alden
Alexandra Alden comes from the island of Malta and makes alternative indie folk. She has lived in three different countries and moves at least once a year. Between these transitions, Alden's songs come alive; the end of one chapter is the beginning of a new chapter. Almost every song on her new album "Leads To Love" was written in a different country or place.
Gea Russell
British-Jamaican songwriter and producer Gea Russell (London, Antwerp) is the founder of Rub Recordings, an independent label and artist booking agency, curator of live events and producer of music documentaries. As a songwriter he recently released his "One Last Dance' album. As a DJ he toured with Jamalaadeen Tacuma and Joseph Bowie. Also he hosted festivals like the Numoon Festival, Writersbench and But Is It Jazz Festival.
Omar Ka
Omar Ka, a friend of Grounds, will invite his band and some friends to do an amazing jam session for DÂK. Born in Senegal, he came to Rotterdam in 1994. He is a descendant of a century-old West-African nomad culture (Fulani) with a very rich music culture. He has made national and international success and has played with many known artists; such as Trijntje Oosterhuis and DJ Tiësto. For DÂK he will mix it up, and make it a lively jam session! Think of a mix between Surinamese, African and Dutch music.
Eni-less
Enio Ramalho also known as Eni-Less, is a born musician and started experimenting with several instruments at an early age. He first mastered playing the guitar and gathered a lot of experience writing and performing his own compositions. His technical musical skills soon get practiced within studio work and not only does he play traditional instruments, but he also starts to focus on midi-programming and turntablism. His experimental compositions stand out and Eni-Less becomes a well known beatcreator and turntablist. He also brings his unique sound across a wide audience. At this moment Eni-Less is working on new productions, which will be released soon.
Time schedule
14:00 – 14:30 DJ
14:30 – 15:15 Kim Petite
15:15 – 15:45 DJ
15:45 – 16:30 Michline
16:30 – 17:00 DJ
17:00 – 18:00 Alexandra Alden
18:00 – 19:30 Gea Russell
19:30 – 20:30 Omar Ka
20:30 – 21:30 Gea Russell
21:30 – 22:30 Eni-less
22:30 – 23:00 Gea Russel