Werelds Delfshaven Winter edition
Free 12:00 - 13:10 / SOLD OUT

Date
Saturday 11 December, 2021
Start
12:00
Doors open
11:30
Due to the new measures, we are obliged to check for the CoronaCheck app QR-code in combination with a valid ID.
More info
The Werelds Delfshaven Festival has returned in December with a winteredition in Grounds. You can expect 3 shows with diverse music, poetry, dance and circustheater of amateurs, young talent, semi-professionals and professionals from our own district Delfshaven.
Cancelling this event is no option, especially in this time where we have needs for inspiring business; culture as a booster dose.
Program: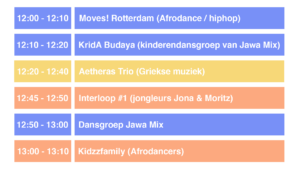 Children dance group of Jawamix are presenting this afternoon Tari Cindai, a modern Malasian dance. The dance school MOVES! Rotterdam can guarantee for funky beats, talent development, workshops and masterclasses with good vibes. With a performance of afrodance and hiphop. Vanessa Kourtesi Trio will present a few Greek folk songs and Rebetiko, also called the Greek Blues. The adult group dancers of Jawa Mix will present a linedance in Suriname style. And the Kidzzfamily, a children group of talented kids from Spangen, will sing and dance.
Werelds Delfshaven winter edition is a collaboration with EPM Holanda Choro school, the foundation Zona Franca, Stichting Jawa Mix, the foundation Flores das Ilhas, Moves! Rotterdam, Circunstruction, de foundation Perspectief Chinezen in Nederland, Cultuur Concreet, Grounds and the Rotterdams Volkstheater.