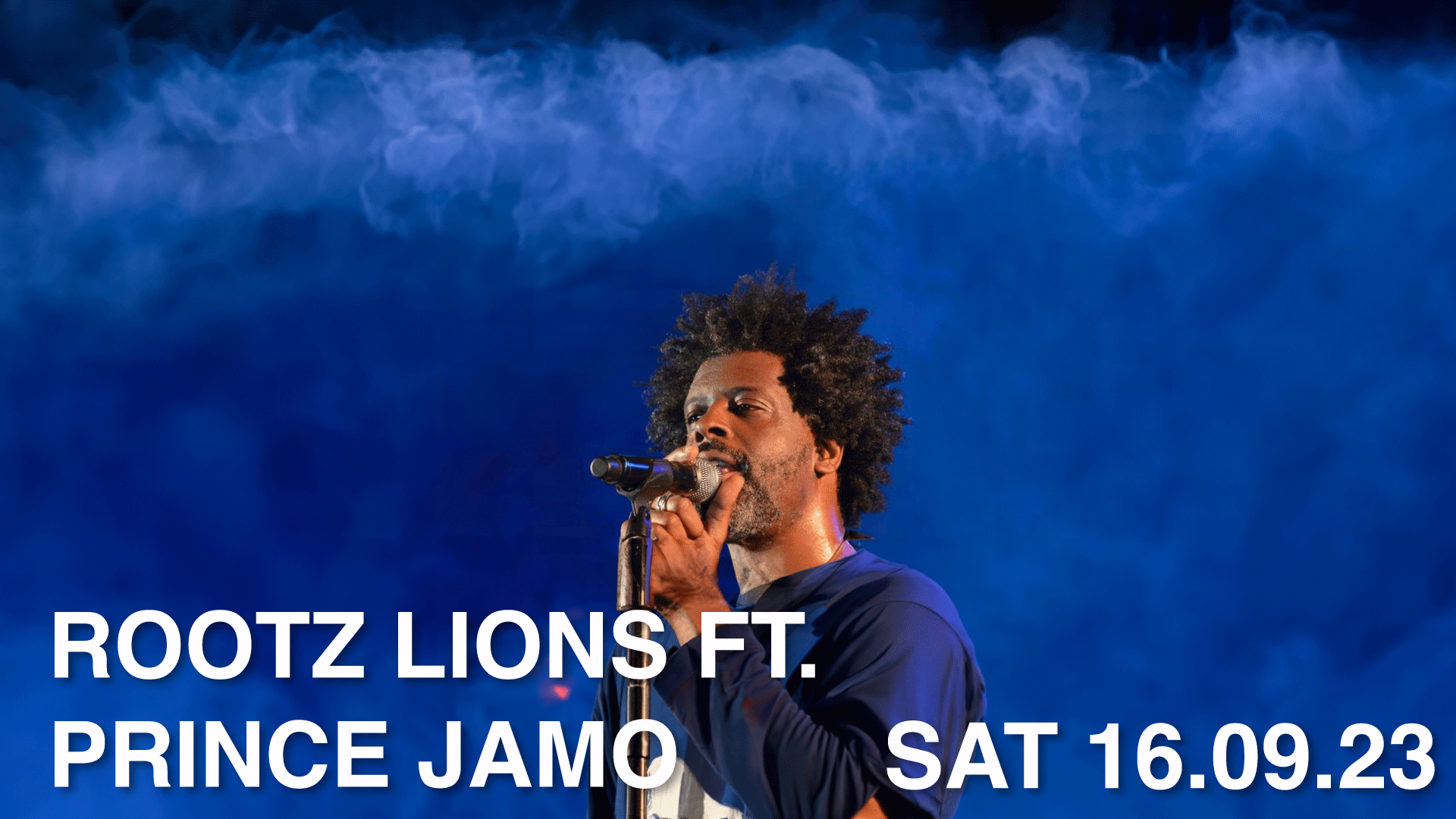 Rootz Lions ft. Prince Jamo
Pre-sale €15
(+ €1 service fee)
At the door €20

Date
Saturday 16 September, 2023
Start
21:00
Doors open
20:00
Rootz Lions performed live at festivals like Nacht van de Kaap and the North Sea with the "Dub Meets Horns" project, featuring Hornsman Coyote and King Cooper. They recorded several albums at the legendary Earthworks Studio of Ben King. Also they toured with international roots reggae artists such as: Donovan Kingjay, Earl Sixteen and Chezidek. On the 16th of September they will adorn the stage of Grounds!
Prince Jamo
In 2017, the Rootz Lions had the honor of hosting Prince Jamo at their fantastic festival in Zandvoort, the Netherlands. Their collaboration on stage was a memorable experience for both the audience and the artists. Since then, the Rootz Lions have eagerly awaited the perfect opportunity to bring Prince Jamo back to the Netherlands for another joint performance. They have been patiently planning for the right timing to create another remarkable musical event together.
Singer, songwriter, performer, self-taught musician and label owner, the prodigious prodigy Ian Campbell – aka Prince Jamo – has been involved in music all his life. Born and raised in Birmingham, he started singing in choirs at the age of six and picked up the first instrument at the age of 10, teaching himself to play along with his brother and sisters' records. He started his first band at the age of 13 and at 17, along with Bonzo B and King Stanley, he became one of three founder members of the Ruffneck Trilogy band, supporting artists such as Israel Vibrations, Mighty Diamonds and Roots Radics and signing to London Records and Sony Publishing in 1996.
In 2003 Prince Jamo created Blackrose Projects, producing and releasing solo releases and collaborations. Now a member of the One Nation Sound System, Prince Jamo has recently performed live with Scientist Soundsystem, Jah Catalyst Soundsystem, Don Fe, Izyah Davis and at many festivals including Glastonbury, One Love, Rototom, Dub Camp, Garance, Essential, Minhoreggae, Reggae La Concha, Organic Roots and Bielawa.