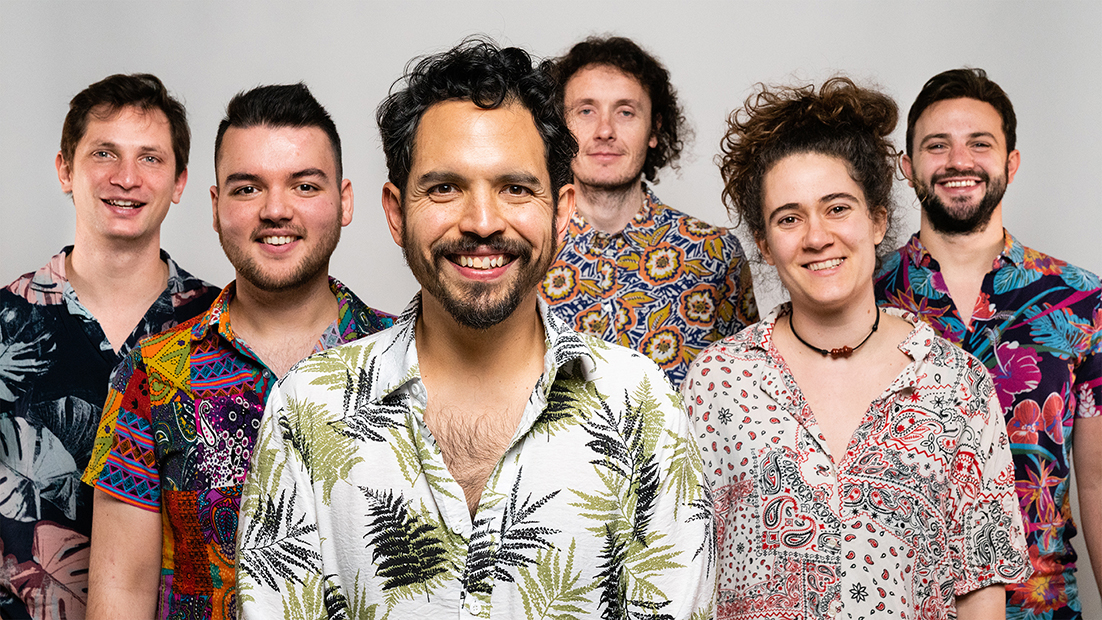 Son de Aquí
Pre-sale €12,50
(+ €1 service fee)
At the door €15,00

Date
Saturday 28 May, 2022
Start
21:00
Doors open
20:00
Son de Aquí is back to Grounds om the 28th of May to present their brand new album "Del otro lado del mar". This world music sextet will definitely make your feet move with their modern mix of South American styles!
Son de Aquí finds its roots in Mexico City where their frontman Leonard Prieto started the band in 2004. From their home town, they released their first two albums "Traigo Sabor" and "De Aquí Son", with musical influences from styles such as cumbia, funk and timba. In 2017 Leonardo moved to Rotterdam and a new version of Son de Aquí was created. From then onwards they have performed at festivals such as Zwarte Cross, Afro Latino, Over de Top, Bevrijdingsfestival Nijmegen and Popronde 2021.
After one year of hard work, the first album of this new Rotterdam-based formation will come to life! Don´t miss the presentation of "Del otro lado del mar" (Across the Sea) on May 28 in Grounds!
With a renewed sound, but just as danceable as always, Son de Aquí will make the concert turn out to be a big party!
Son de Aquí will be supported by a support act. That is Banda Matatu.
Owing to the versatility and flexibility, the band incorporates afro caribbean grooves fusing afrobeat, chakacha and afro jazz among other styles which gives Banda Matatu its colour.
Max Ravanello from Italy, and Mike Onyango, met in Rotterdam and together were able to create Banda Matatu ensemble, releasing through the years one ep and three singles. Currently a new ep and single are in the mixing phase, soon to be released.
Trombone, alto sax, trumpet, harmonica, electric guitar, bass guitar and drumset are the major set up of the band. Banda Matatu comprises of members from different parts of the world that gives the band a multicultural blend.