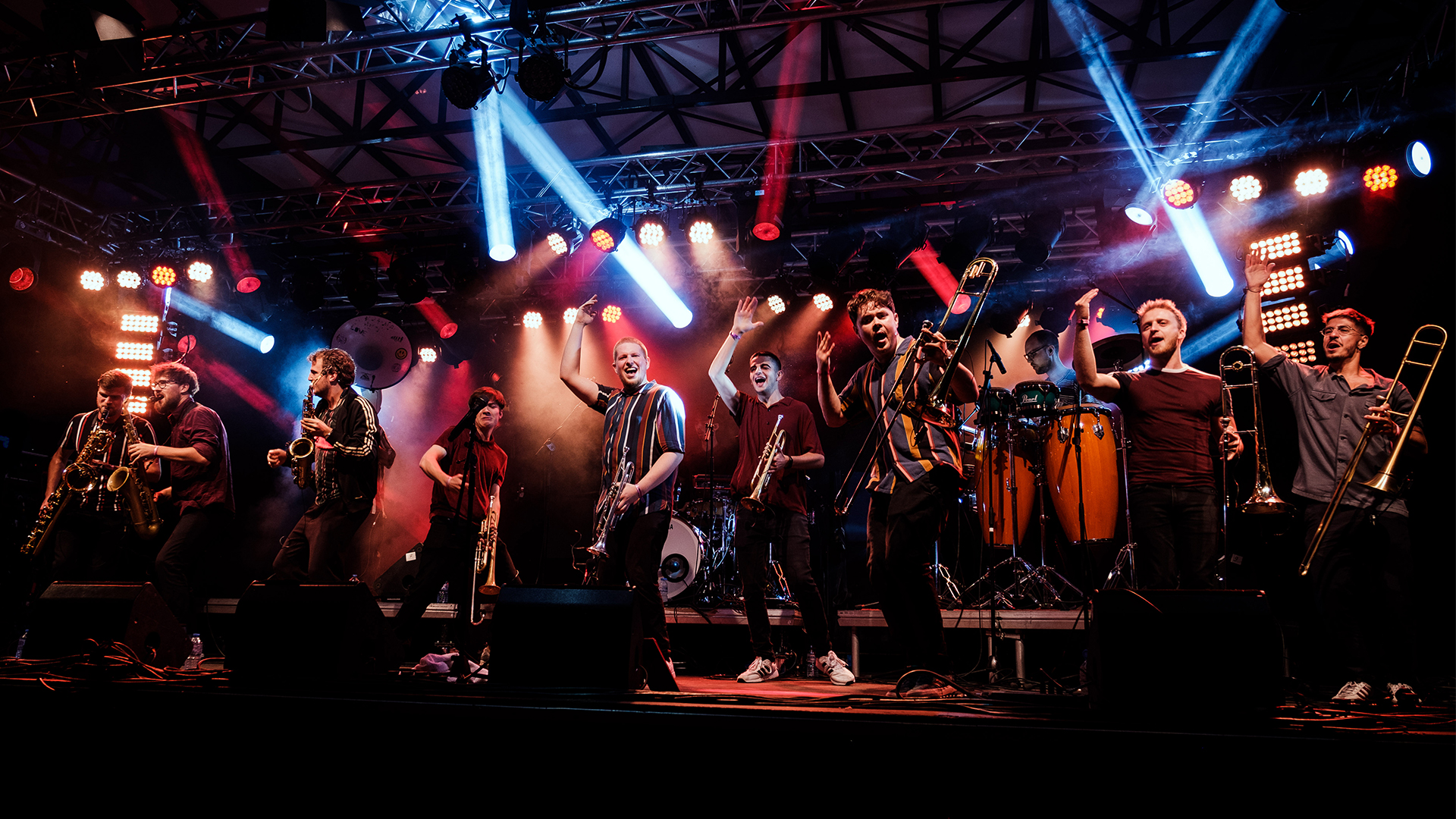 Valvetronic Brassband
Pre-sale €10,00
(+ €1 service fee)
At the door €12,50

Date
Friday 25 March, 2022
Start
21:00
Doors open
20:00
| Please note: This concert has been moved from 10 December 2021 to 25 March 2022. The tickets you have received will stay valid!
Valvetronic is a brassband from Amsterdam, the Netherlands, that tears the house down everywhere they play. Armed with 10 horns, drums and percussion they bring a show that's bursting with energy. Their music is a mix of House/EDM/Hiphop, or as they like to call it ADM: Acoustic Dance Music. Since their debut in 2018 in Paradiso, the group has rocked many major venues and festivals, like 'Amsterdam Dance Event' and 'North Sea Jazz Festival'.
In October 2021 Valvetronic released her long anticipated debut album on all streaming platforms: 'Before The Dawn'. They dedicated this record to the nightlife, something that's missed by many at the moment. From a rainy neon-lit alleyway to a steaming hot nightclub and from clear skies full with flickering stars to a festival where everybody dances until the sun comes up! The sound? A unique mix of analogue and digital, where acoustic instruments and electronic production come together and complete each other. All the more reason for a spectacular show to celebrate this release with you! Make sure you don't miss out on this explosion of beats, brass and bangers!
Supporters act
Bunker is the hottest new band for brass, dance and rave music for the hardcore club and festival fan. Tight drum beats and a steel baritone make up the foundation while the sensual keys create the concrete beneath the brass artillery; blast bang boom! Bunker makes the ground shake! These five stage beasts have united in Delft under a common passion for the sweat-stained, raving audience. Through their original sound and compositions, the band aims to lead the crowd into a state of ecstasy, fully secluded from the outside world.