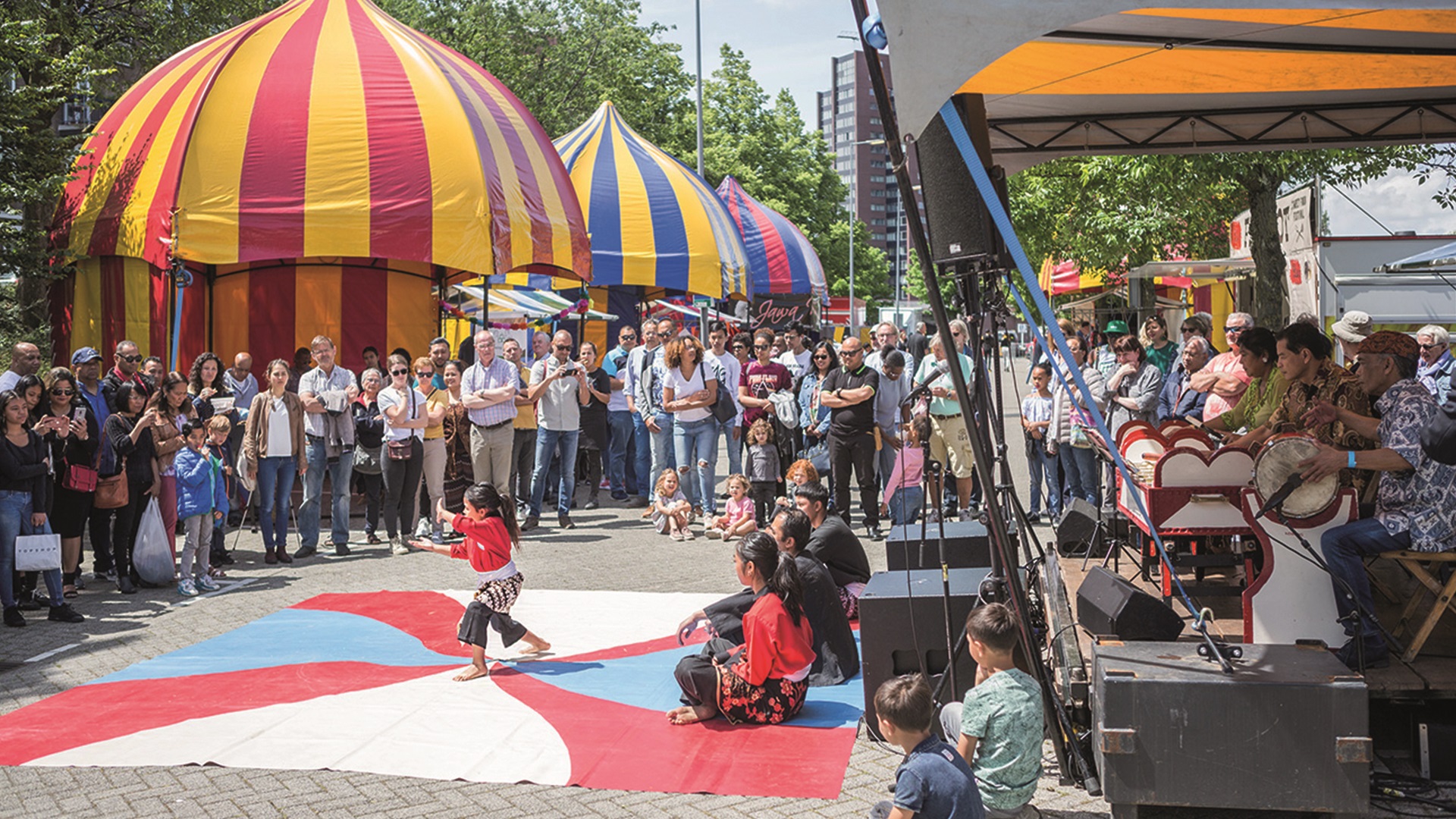 Werelds Delfshaven Festival
Datum
zondag 03 juli, 2022
Aanvang
12:00
Na twee jaar stilstand barst het weer los in Delfshaven: de twaalfde editie van het Festival Werelds Delfshaven! Een duizelingwekkende culturele carousel samengesteld uit de schatkamers van Rotterdam.
Met deze editie Afrobeat van Kadogo 1er, onweerstaanbare Kaapverdiaanse funana van Tabanka, eigenzinnig circustheater, accordeon virtuoos Simone Bottasso, batucada groep Ripa na Tulipa, traditionele fanfare, vurige dans, workshops, zinsbegoochelend straattheater, Latinfeest met het Cubaanse Son del Sofa van Gerardo Rosales en nog veel meer!
Ook is het evenement te vinden op een nieuwe locatie! Deze editie vindt deels plaats in de tuin van Grounds en op de kruising van Pieter de Hoochweg en de Westzeedijk.
Line-up Werelds Delfshaven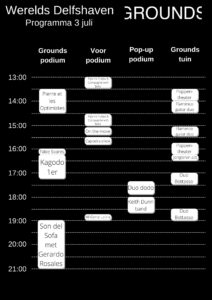 Pierre et les Optimistes | Grounds podium | 13:30-14:30
Pierre et les Optimistes play sweet songs, swinging tunes, sunshine vibes and summer grooves! Their personal vision of global music is inspired by Classic Jazz and Jazz Manouche, French chansons, Flamenco and Caribbean Music – as well as anything else that might catch their ear.
Fabie Soares | Grounds podium | 16:00-16:15
Fabie Soares is een 20-jarige R&B zangeres uit Rotterdam. Muziek heeft altijd al een groot deel uitgemaakt van haar leven maar sinds 2018 wist ze zeker dat muziek hetgeen is waarin ze wilt bloeien. Dit is een concert waarbij je Fabie's groei kan waarnemen naar grotere podia.
Kadogo 1er | Grounds podium | 16:15-17:15
De Congolese in Rotterdam wonende zanger/gitarist Lwela Kasulwe heeft een geheel eigen stijl, namelijk een mix van Afrikaanse (Congolese) muziek met jazz, soul, pop en funk.
Son del Sofa met Gerardo Rosales | Grounds podium | 19:00-21:00
Gerardo Rosales is geboren in Caracas, Venezuela en is een professionele percussiespeler sinds 1982. Als jonge muzikant was hij al percussionist van vele bekende Venezolaanse muzikanten.
Ripa na Tulipa en Compagnie with Balls | Voor podium | 13:00-13:30
Jonge groep van Codarts studenten die een percussie optreden zal geven. Wees klaar voor heerlijke ritmes!
On the move | Voor podium | 15:05-15:25
Een circusartiest en een breakdancer maken samen een magische voorstelling. Ze zweven over de vloer, duiken op onverwachte plekken en vliegen door de lucht. Zo vertellen ze over zichzelf, elk met hun eigen taal. Zal het ze lukken elkaar te begrijpen?
Capoeira show | Voor podium | 15:30-15:50
Capoeira is de Braziliaanse mix van vechtsport, muziek, dans en acrobatiek. In deze voorstelling wordt capoeira volgens de traditie begeleid met live zang en muziek op typisch Braziliaanse instrumenten.
Mi Gente Latina | Voor podium | 18:45-19:00
Stichting Transforum is een interculturele Latijns Amerikaanse Stichting gebaseerd in Rotterdam voor iedereen die interesse heeft in de Latijns Amerikaanse  taal en cultuur.  Deze keer presenteert de stichting zich met dansgroep Mi Gente Latina.
Duo Dodo | Pop-up podium | 17:20-17:55
TBA.
Keith Dunn Band | Pop-up podium | 18:00-18:40
Keith Dunn is a Boston, USA, harmonica player, singer, songwriter and recording session producer now living in Rotterdam. It is melodic, percussive harmonica that is rooted in blues tradition, but improvisational and open-minded.
Poppentheater van Wim Noordegraaf | Grounds tuin | 13:30-14:00 & 15:50-16:15
Wim Noordegraaf begon in 1972 als poppenspeler in het Oude Westen te Rotterdam. "Ik speel nu al zo lang, dat ik er zelf giechelig van word. En ik kan (en wil) niet ophouden."
Flamenco guitar duo | Grounds tuin | 14:00-14:30 & 15:05-15:25
Dit duo, bestaande uit Anoush Saadat en Vicente Santiago, zal je meenemen naar zuid Spanje met hun Flamenco. Sta jij klaar om te dansen?
Jongleren act | Grounds tuin | 16:15-16:30
TBA.
Duo Bottasso | Grounds tuin | 17:00-17:30 & 18:30-19:00
De Bottasso broers, Nicolò op viool en trompet en Simone op het accordion, spelen de sterren van de hemel met hun eigen composities en interpretaties van volks nummers.
Het programma wordt samengesteld door Het Rotterdams Volkstheater en Podium Grounds, in samenwerking met vertegenwoordigers van de vele culturen en groepen die Delfshaven rijk is.