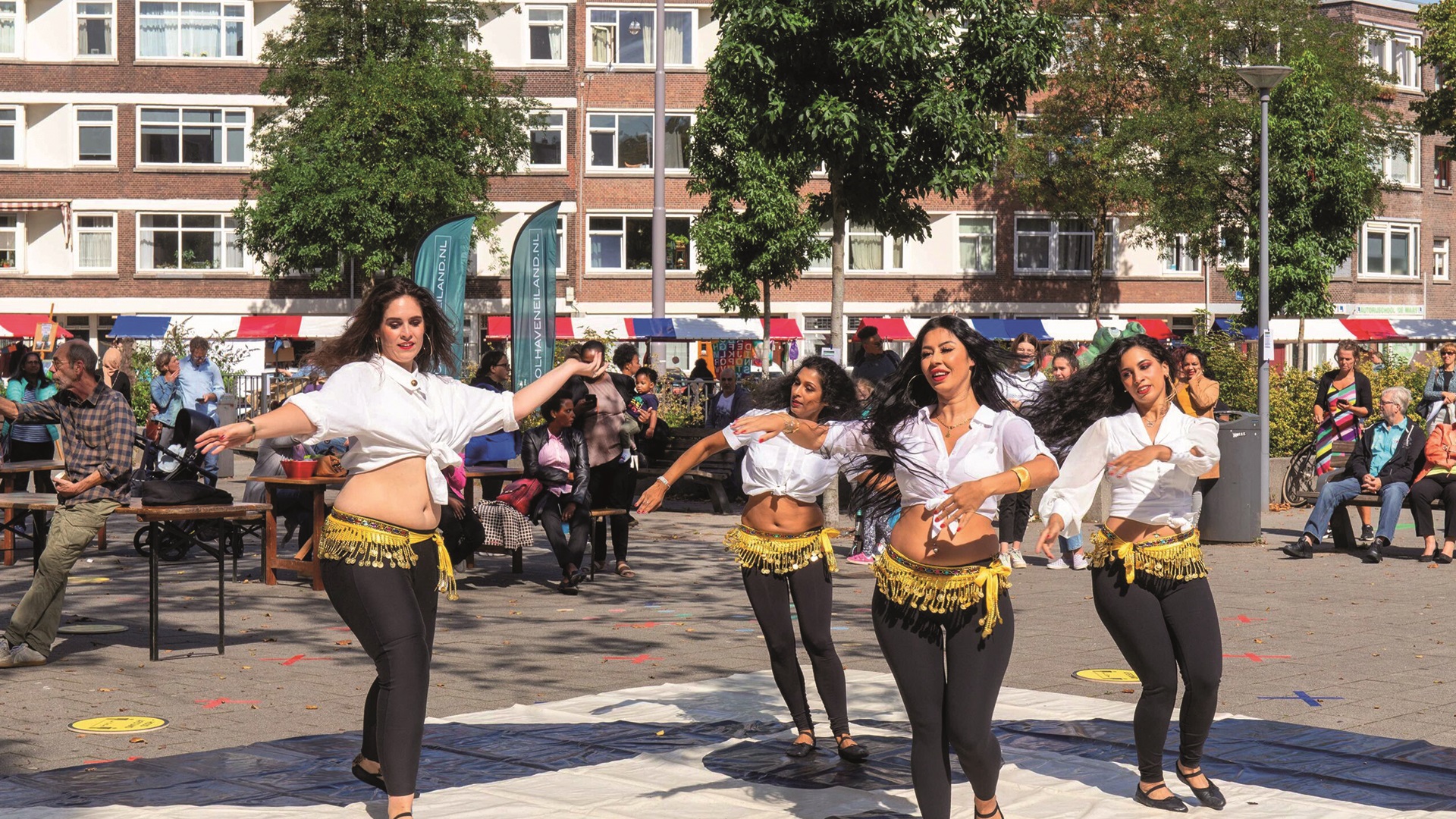 Wereld Wijde Wijk Kapelplein
Datum
zondag 18 september, 2022
Aanvang
11:00
Wereld Wijde Wijk Kapelplein is een open lucht evenement op Coolhaveneiland waar op de culturele activiteiten en initiatieven van de wijk wordt ingezoomd.
Het programma bestaat uit muziek, circus, theater, dans optredens van kinderen, amateurs, semi-professionals en professionals uit de wijk! De dag begint met de buurtmarkt.
Programma
11:00 – 18:00 Buurtmarkt
13:00 – 13:15 Rhythm Unlimited Brass
13:20 – 13:40 Optreden leerlingen AME muziekschool
13:50 – 14:00 Hellen Boyko (dans, Lazy Susan & Co.)
14:10 – 14:30 Steyn Riemersma (singer/songwriter, Culture Hub)
14:35 – 14:45 Salsa door Serendipity Studio
15:00 – 15:05 K-pop door RNCE
15:05 – 15:10 Kizoma Fusion Show door Serendipity Studio
15:15 – 15:35 Fuego act (rap/urban, Culture Hub)
15:40 – 15:55 Afro dance workshop door Serendipity Studio
16:20 – 16:30 Roel Post (jongleur)
16:40 – 16:50 Tanisha (soul, Can Collective)
17:00 – 18:00 Omar Ka with band

Line-up
Rhythm Unlimited Brass
Het collectief is een van velen bands die in De Frikandel op Coolhveneiland repeteren. Ze spatteren hun energie en delen hun vreugde met muziekliefhebbers van Rotterdam en omstreken.
Leerlingen AME Muziekschool
AME Rotterdam (Annika's Music Experience) is opgericht door zangeres Annika Boxhoorn en is gevestigd op Coolahveneiland no.558. Met 20 jaar podiumervaring en meer dan 10 jaar leservaring geeft ze zang-, band-, theorieles, songwriting, vox fix en workshops. Vandaag staat ze met haar leerlingen op het podium.
Hellen Boyko
Hellen is gefascineerd door de wereld, de samenleving en de mens. In elk werk wil ze dat zowel de performers als het publiek de echte wereld ervaren door middel van abstractie, bewegingen en symbolen door de subtekst van ons bestaan te onderstrepen. De compositie wat ze op het festival gaat uitvoeren is gechoreografeerd door Hellen Boyko en ze wordt hierbij begeleidt door de muziek van Pablo Bojko.
Steyn Riemersma
Deze singer/songwriter is een geboren en getogen Rotterdammer met hart voor zijn stad. Hij is al jaren bezig met zingen en spelen. Zijn inspiratiebron is een breed palet, van The Beatles tot Mac Miller.
Salsa door Serendipity Studio
Het is een groep vrienden die elkaar hebben gevonden door de schoonheid en liefde in het dansen van Salsa, Bachata & Kizomba. Ze gaan er vanuit dat ieder mens uniek is, daarom ligt de focus van hun praktijk niet alleen op techniek maar ook het experimenteren van creativiteit. Deze show wordt solo gedanst door de Salsa senioren dansclub en dansduo Marco & Angela.
K-pop door RNCE
RNCE is een groepje jongeren die bij Serendipity Studio traint om hun K-pop skills te verbeteren. Vixxen & Aurellia presenteren deze populaire Koreaanse muziekstijl tijdens het evenement.
Fuego Act van Young Villian & Donson
Vincent Lawrence a.k.a. Young Villian is geboren en getogen in de Verenigde Staten. Muziek is zijn uitingsmiddel van gevoelens, positiviteit en geluk. In 2018 heeft hij de eerste prijs voor Beste Rapartiest én Beste Act van Stand Out geworden. Hetzelfde jaar stond hij in de finale van Most Wanted. Zijn inspiratie zoekt hij bij verschillende artiesten en muziekstijlen.
Roel Post
Roel is diabolist en jongleur en treedt hiermee in verschillende circussen op.
Tanisha
Tanisha is een jonge Rotterdamse zangeres die vanaf haar veertiende al heeft opgetreden. Ze heeft gestaan op o.a. het Dunya Festival, Your World Festival, Music Matters Award. In 2009 heeft ze het Jeugd Wereld Muziek festival gewonnen. Momenteel is ze druk bezig met maken van nieuwe muziek.
Omar Ka with Band
Omar Ka (Senegal) komt van de nomadische Fulani uit Senegal en heeft ook roots in Niger. Met zijn unieke stemgeluid laat Omar Ka vrijwel niemand onberoerd. Het Omar Ka Band is een groep vrienden die een mix brengt van aanstekelijke funky Afrikaanse beats waarbij stilzitten onmogelijk is. Traditionele instrumenten als de kamale n'goni (Afrikaanse harp) en djembe aangevuld met gitaar, bas, drums staan garant voor hun eigenzinnige en swingende geluid.

Workshops
13:00 – 17:00
Knutselen met De Kleurbende
Hoelahoepen met Robin Hoop
Jampots maken met WMO Radar
Groot schilderij maken met SKVR
GeeGee Gaming
Verhalen ophalen van Wijkcollectie
14:30 – 15:00 / 15:30 – 16:00
Sleutelhanger knuffel maken met Modelessen
Locatie: Kapelstraat / Willem Buytewechstraat